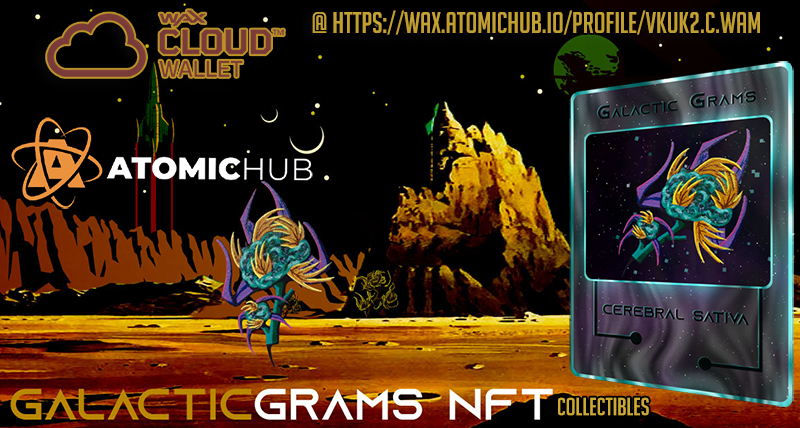 Cerebral Sativa is a Pure Sativa Strain. She is one of the Original 7 strains from Old Earth. Her Story begins Long ago, on the heels of an era that yielded great and terrible wars. Many of the disenfranchised youth had turned their attentions to the life-giving Practice of Cannabis Breeding. The myriad of Sativa Genetics they had collected while battling in the lush and ferocious "Jungle Systems "would eventually end up on both sides of "The Deeps." On the western flank of "The Deeps" it was a legend named "New Town" who created a syck amalgam of her most Epic Sativa Genetics. New Town assigned this creation the name M-444.
The Eastern flank has a legendary grower known as "Rane." Rane had created a different, yet equally rad combo of pure sativa genetics. When the underground network code named "G-Stone" announced the availability of New Towns' All Star Sativa breed, Rane and his crew immediately acquired seeds.
During the following decade, this merging of genetics, selectively bred and refined within the Tylezbale archipelago and throughout the "Greater Garden Sector." Seeds and clones of this pure sativa strain are continuously updated, perpetuated, and stored by Ranes dedicated outfit. This stealthy group of Cannabis enthusiasts is locally known as the "TPG."
Note-Cerebral Sativa is a rare throwback line of genetics. This link to the past is a deep component which is present in most modern strains. This strain is sought after by next level Cannabis breeders and collectors. The distinct growth characteristics of Cerebral Sativa need to be carefully managed by expert breeders to be properly utilized. Careless breeding may result in a corrupted harvest. Proper use of the CS is said to have "Spirit tethered" effects which propel its' user into a "Ramping Transcendence." The Time bending effects of Cerebral Sativa, coupled with its' "Transcendent" effects may result in dangerous outcomes, including the release of destructive anomalous Hyper-Focused Gravity Waves. The wonderous Undersea Gardens of Lada are direct descendants of CS, this is since these genetics perform so well in wetter climates.